Andy Roddick Wimbledon Final Speech Assignments
As Roger Federer took to the court for the Wimbledon final in his patented "RF" all-cream colored ensemble featuring pants and a multi-pocketed slightly-strange, slightly-military-style jacket with a high collar, you couldn't help but recall the Beatles' "Sgt. Pepper"-era get-ups, and as the match went on, the song "With a Little Help From My Friends."

With a little help from Andy Roddick on a set point that turned the entire match, Federer raised the Wimbledon trophy and inherited the title of GOAT (Greatest of All Time) with a 5-7, 7-6, 7-6, 3-6, 16-14 victory over the American.
It was the third time Federer has beaten Roddick in a Wimbledon final, and the sixth career Wimbledon title for the Swiss. The win propelled Federer to the all-time head of the class in terms of Grand Slam singles titles won, eclipsing Pete Sampras' 14 titles with the magic number 15.
Roddick won the first set and was well in control before disaster struck.
Leading 6-5 in the second-set tiebreak, Roddick had a relatively-easy high volley put-away on an attempted Federer pass that he for an instant took his eye off of — an instant that changed the match from a potential 2-0 set lead to one-set all.
"That was a definite choke right there," said NBC commentator John McEnroe. Roddick proceeded to chunk a transition net shot on the net point, then make a backhand unforced error as Federer gave out a "Yeah!" shout upon clinching the set.
Roddick hung on gamely in the third set until the tiebreak, where Federer imposed his will in addition to some "C'mon!"s, showing the fire that at this point Roddick was lacking after the specter of the second set giveaway. Down 1-4 and 2-5 in the tiebreak, Roddick made a brief resurgence until Federer opened the toy chest, luring the American to the net and passing him. Roddick brought it back to 5-6, but then Federer closed it out on his next service point for a two-sets-to-one lead.
The American broke for a 3-1 lead in the fourth, then survived a difficult hold for 4-1 before closing out the set to force a fifth.
In the marathon fifth set games went according to serve until 14-15 when Roddick finally succumbed on his service game.
Roddick drops to 1-4 in Slam finals, but retains the small consolation that he is playing perhaps the best tennis of his career. He is fitter than ever and hitting through his backhand with the help of coach Larry Stefanki.
"I know how tough it is," Roddick said prior to the final at the prospect of beating the Swiss. "But, you know, I'm excited about this one. I didn't know if I was going to get to play a final of Wimbledon again."
Among the former champions in the star-studded crowd were Sampras (seven Wimbledon championships), Bjorn Borg (five) and Rod Laver (four).
The 27-year-old Federer, who has reached the final of 19 of the last 20 Slams, completed the career Grand Slam in June by winning his first French Open, a goal that eluded Sampras during his reign.
The Wimbledon crown also puts Federer back at the No. 1 ranking, ahead of injured rival Rafael Nadal who was forced to skip a trip to England.
"It's nice to hang on to — going through life being the best," Federer said. "You're not just really a champion; you're the best at something. That's a nice feeling to have."
You Might Like:
Spaniards Nadal, Ferrer Reach Tennis Masters Semis; Federer v. Roddick Today
Caroline Wozniacki Will Run The New York City Marathon This Fall
Blake Bests Harrison For First Win Of Season; Roddick v. Mahut Today In Atlanta
Isner Wins Marathon, Nadal's Turn to Escape at Wimbledon
Federer Rebounds, Beats Down Davydenko; Roddick Rolls Gonzo at Tennis Masters Cup
Read more stories about: Tennis
Tags: Andy Roddick, Roger Federer, Wimbledon

« Previous PostNext Post »

Picture the scene. A pub quiz, five years from now. The sports round. "Who," the landlord begins, drink in hand, "did Roger Federer beat in the 2017 Wimbledon final, to win a record eighth title?" Blank stares. The chinking of pint glasses. A few fevered whispers.
"Tomas Berdych?"
This was the biggest day in the career of Marin Cilic, the world's sixth best male tennis player and a former US Open champion. And yet it was never about him — not really. This was the Roger final, the hazy afternoon on which the great Swiss surpassed the seven titles won by William Renshaw and Pete Sampras to establish himself as the greatest man to ever play tennis at Wimbledon. 
Rarely in this match did Federer seem as if he was playing against Cilic: instead he was playing against himself and the abstracts of history and perfection.
Not that Cilic, who had talked a good game ahead of this final, could allow himself to be concerned by such things. "I believe that this is Roger's home court, the place where he feels the best and knows that he can play the best game," he said in his penultimate press conference at this year's Championships, before adding with a smile: "But I definitely believe in my own abilities to win."
At what precise moment did that confidence evaporate? Perhaps it really wasn't until one final ace whistled past his nose, and he watched Federer raise his hands to his head in now familiar triumph. 
Or maybe it was before he had even stepped onto the court. This wasn't Cilic's first Grand Slam final, of course, but it was his first Wimbledon Grand Slam final. The esteemed walk from the competitors' dressing room to the doorway to Centre Court takes precisely two-and-a-half minutes, and it could well have been here — as he heard Federer exchanging pleasantries with the All England Club veterans he has strolled past ten times before  — that Cilic first sensed he would not be the one lifting the famous trophy later that afternoon.
More likely, however, his moment of aching contemplation came midway through the second set at 0-3 down, when a painful blister on his left foot began to severely impede his movement. Realising that history was slipping from his hampered grasp, Cilic sat himself down during a chair break, and sobbed.
This was always likely to be Federer's day and so it proved (AFP/Getty Images)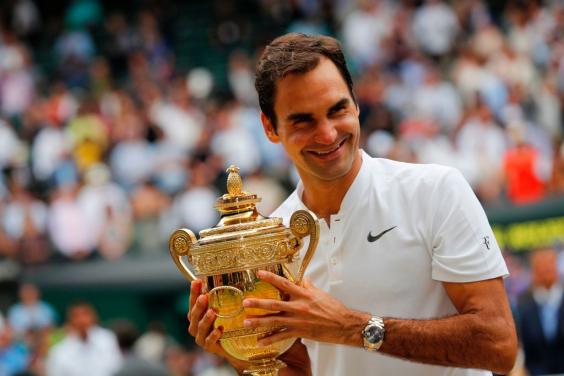 "I had a sudden feeling that I knew I could not give my best on the court in such a big match," Cilic later recounted. "And it was emotional that I knew on such a big day that I was unable to play my best tennis. All my emotions combined because I knew how much it had taken for me to get there."
But the 15,916 spectators crammed into Centre Court had been confident of a Federer win long before the floodgates had opened. The nervous energy that crackled around this famous old Elizabethan theatre during Johanna Konta's semi-final, or throughout Andy Murray's troubled campaign, was notable by its absence. Instead, there was a contented hum between points, as Federer serenely went about his business. 
These leisured fans had not travelled to south London to squirm their way through a competitive encounter: they had come to watch a coronation. When, at 0-30 in the fifth game of the pivotal first set, Federer improbably chased down a feather-light drop shot and somehow flicked it back around the net with balletic grace, there were audible gasps. This quickly turned into dizzied laughter. Their man was having one of those days. Isn't he always?
Cilic, a powerful, heavy-set man who stands at an imposing 6 ft 6 in, visibly shrunk under the pressure. Federer was applauded, cheered and screamed at throughout. In contrast, the loudest cries for Cilic were reserved for when he gingerly stood up after taking a medical timeout, and when his voice faltered during his runners-up speech. The crowd may have sympathised with Cilic, but at no point did they ever support him.
He would go on to lose in straight sets in just an hour and 41 minutes: the exact same period it took Federer to beat Andy Roddick in the 2005 final. And after the trophy presentation, as Federer lapped up the last dregs of his ecstatic support and waved at his chuckling twin toddlers dangling their legs off the edge of the commentary box, Cilic quietly slinked away.
Reappearing for his press conference, he was quick to congratulate his opponent. "I didn't have actually time on the court also to congratulate Roger," he said apologetically, blinking in the spotlight. "I don't want to put down his victory in any way as he deserved it completely. These things are part of the sport, so congratulations to him and his team for everything he did and for another title here."
By the end, even Cilic understood. The day did not belong to him. Federer had won his record title, and the Centre Court crowd had gone home happy. He had played his role. 
Reuse content
Roger Federer at Wimbledon
Wimbledon: The greatest pictures from The Championships